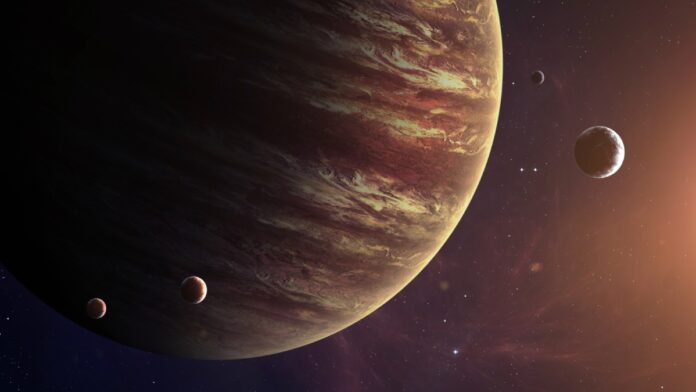 In 1979, Voyager Spacecrafts first took a close view of the planet Jupiter, Due to which we got to know a lot about the planet Jupiter. Then in 1989, we learned about Jupiter's atmosphere, chemical composition, moons, rings, gravity, magnetic field, and patterns with the Galileo spacecraft. After Galileo's spacecraft, we found out what was in the core of the Juno spacecraft in 2011, and whether it has a solid surface or not, it was also revealed that Jupiter is a giant planet of gas. So let's know, Is Jupiter a failed star? And does it have any solid surfaces or not? And more…
Is Jupiter a failed star?
Initial research of Jupiter
In 1979, Voyager Spacecraft first took a close-up picture of Jupiter. Since then, scientists have become more curious to know everything about Jupiter. So in 1989, the Galileo spacecraft was sent by NASA to get even closer to Jupiter, which led us to learn a lot about Jupiter, but due to the mission failure, we did not know about Jupiter's surface and core.
Scientists wanted to know whether Jupiter has a solid surface like Earth or is just a giant planet of gas. To understand this, the Juno spacecraft was sent in 2011; from the data collected by the Juno spacecraft, we came to know that Jupiter does not have any solid surface. Instead, the data collected by this mission proved that Jupiter is a giant planet of gas, and its chemical composition is similar to our Sun.
Chemical composition
Now, because its chemical composition is similar to that of our Sun or a star, we can call Jupiter a failed star. But, let us know this in more detail; from the Juno spacecraft data,t Jupiter is composed of mostly hydrogen and helium like other stars and much less heavy elements. This means that the chemical composition of Jupiter is similar to that of a star, but it is not so severe as a star that it can do fusion and radiate light.
Most giant planets in the solar system
Jupiter is the largest and oldest planet in our solar system, with modern research scientists claim that it was formed almost 40 million years after the creation of the Sun, so about Jupiter's Sun-like structure planets give us a lot of information, like how planets formed after the creation of the Sun in our solar system.
Formation of Solar System
According to scientists, when a star is formed, all the gases and dust around it become a disk and start moving around the star; this disc is called the solar nebula. As vast clouds of dust and gas start moving around the star, due to gravity, all the heavy elements come near the stars, and the light parts are removed; due to gravity, all the aspects collide and form planets. Solid planets are constructed from heavy elements, and gases from light elements are included.
Formation of Jupiter
Jupiter is also formed by collapsing similar light elements. But Jupiter could also become an absolute star, a planet, or something different. For example, in our Milky Way Galaxy, many objects are similar to Jupiter, and their chemical composition is also identical; these objects are called Brown Dwarf. These things look very impressive.
Brown Dwarf objects like it or Jupiter all look the same, so they should be treated as starlight objects, not as a planet, although there are a lot of arguments among astronomers, as they are not yet definitive. We have not been able to know which name to use for Jupiter. They still have not decided whether to call it a failed star or a planet.
Every planet is defined by its mass, chemical composition, and elements, and at least it is described as an object or group orbiting a star. Therefore, Jupiter is very much an object which cannot perform the nuclear fusion. Consequently, we can neither call it an entire planet nor a real star. But as scientists get to know Jupiter and its similar planets more thoroughly, we will be able to understand the universe more closely and understand things like Jupiter better.
Exploration and observation of Jupiter
For the exploration and observation of Jupiter, nine spacecraft have been sent so far, which includes four Flyby spacecraft, three gravity assist, and two orbiters.
Pioneer spacecraft
The Pioneer 10 spacecraft was first sent in 1972 for Jupiter's observation. Whose mission was to take a picture of Jupiter and observe its magnetic field, then proceed to its second mission. Similarly, in 1973, Pioneer 11 was launched, whose mission was to keep the asteroid belt of Jupiter and its surroundings, then proceed to observe Saturn and cosmic rays. With the help of Pioneer missions, we learned a lot about Jupiter in which the most significant discovery is Jupiter's magnetosphere.
Voyager Spacecraft
Then in 1979, Voyager 1 and Voyager 2 were sent for the observations of Jupiter's ring system and its lunar IO and Europa.
Ulysses Spacecraft
NASA sent Ulysses Spacecraft in 1992 for a detailed study of the gravity and atmosphere of Jupiter after the Pioneer and Voyager missions.
Cassini and New Horizons
Then in 2000 Cassini spacecraft in 2007, the New Horizons spacecraft sent the Pioneer 10, 11, Voyager 1, 2, Ulysses, Cassini, and New Horizons. With the help of all these spacecraft, we got to know Jupiter's outer atmosphere, gravity, and magnetosphere.
Galileo spacecraft
Jupiter was number one in the Planetary Science Decadal Survey, published in 1968. So after the Voyager mission, scientists were curious about Jupiter. They wanted to know the atmosphere of Jupiter and whether Jupiter has a solid surface or not.
To know this, they sent the Galileo spacecraft in 1989; by 1995, after six years of travel and 58 million kilometers away from us, Galileo had reached into Orbit of Jupiter. Galileo's spacecraft had two parts; the first, Jupiter's atmospheric probe, i.e., lander, and the second part, the orbiter, had to deliver the data deposited by the lander to Earth by staying in Jupiter's orbit.
The lander had to study Jupiter's magnetic field and gravity closely. And thus, on December 7, 1995, the Jupiter atmospheric probe, i.e., a lander made of titanium, detached from the Galileo spacecraft and entered Jupiter quickly. Although the powerful gravity of Jupiter, at a speed of about one lakh 62 thousand per hour, had been pulling the lander, scientists opened the parachute on it to reduce the rate of the lander. Shortly after the parachute opened, it reached the atmosphere of Jupiter. It continuously sends all the information to the orbiter, and the orbiter sends data on Earth. We got information from the lander and orbiter, which we did not know before.
Jupiter's atmosphere
After the lander reached the highest atmosphere of Jupiter, we came to know that Jupiter's upper atmosphere is not like Earth's atmosphere but full of dense clouds, Clouds that are of different sizes. The atmosphere here is like a thick smoke chamber that looks very strange. Jupiter's clouds consist of ammonia, hydrogen sulfide, and water.
We also learned from the presence of water that there is rain on Jupiter, but the temperature is so high that the rainwater becomes steamy and cannot reach the surface in a bit of depth after this dense cloud. So the upper clouds dissipate as we go, and an empty sky comes; at this place, we came to know that the depth and temperature of Jupiter keep increasing the higher the temperature and pressure.
In this empty sky, most rainwater evaporates again and goes into the upper atmosphere; even after going to a depth of about 156 kilometers, the lander did not find any solid surface. Lander lost control. After the signal was closed, the lander melted and evaporated due to the inhalation temperature and pressure.
Although the lander could not go much deeper than this, it told us a lot about Jupiter's atmosphere. From the Galileo mission, we also learned that Jupiter's ring system is made of dust from the collision of the four moons. It also helped us understand Jupiter's magnetosphere in a better way. Unfortunately, after 14 years in space and eight years in the Jovian system, the orbiter of Galileo was destroyed by sending to Jupiter's atmosphere so that bacteria from the Earth would not contaminate Jupiter's moon.
Juno Spacecraft
After the Galileo mission, scientists wanted to know more than this, we were not yet able to tell whether there is a solid surface on Jupiter or not, so in 2011 we sent Juno Spacecraft, whose primary job was to understand Jupiter's composition, gravity fields, magnetic fields, polar magnetic fields, and core. Finally, on July 5, 2016, Juno Spacecraft successfully reached Jupiter's orbit. With the help of the Juno Spacecraft, we got closer to Jupiter; Juno did not have a lander like Galileo; it was just to study Jupiter by staying in Jupiter's orbit.
The liquid core of Jupiter
From the data sent by Juno, we came to know that Jupiter does not have a solid surface, but it has a liquid core in the middle, which has a temperature of about 9700 degrees Celsius. The pressure here is so high that the atoms of hydrogen change from the normal to a liquid state called metallic hydrogen.
This form of hydrogen acts like an electric conductor, so it is due to this liquid core that Jupiter's colossal magnetosphere is formed. Juno has proved that Jupiter is a giant planet of gas whose chemical composition is similar to that of a star; Jupiter's chemical composition is identical to that of a star, leading some scientists to believe that Jupiter is a failed star. Juno is still studying Jupiter by staying in Jupiter's orbit.
Jupiter's future missions
Even after knowing so much about Jupiter, scientists believe we still have much to learn. The European Space Agency has therefore chosen the L1-class juice mission to explore Jupiter's Galilean moons as part of its cosmic vision program, with a mission provided by Roskosmos in 2022. Similarly, ISRO will launch the first Indian mission to Jupiter in 2022 or 2023 via Geosynchronous Satellite Launch Vehicle Mark 3. After a long halt and a suborbital test flight, ISRO successfully launched the first geosynchronous satellite launch vehicle mark three, i.e., Gslv-3, from Satish Dhawan Space Center on June 5, 2017. In 2022, a human will be sent into space by a low-earth orbit spacecraft called Gaganyaan, and GSLV3 rockets will be used in this mission.
---