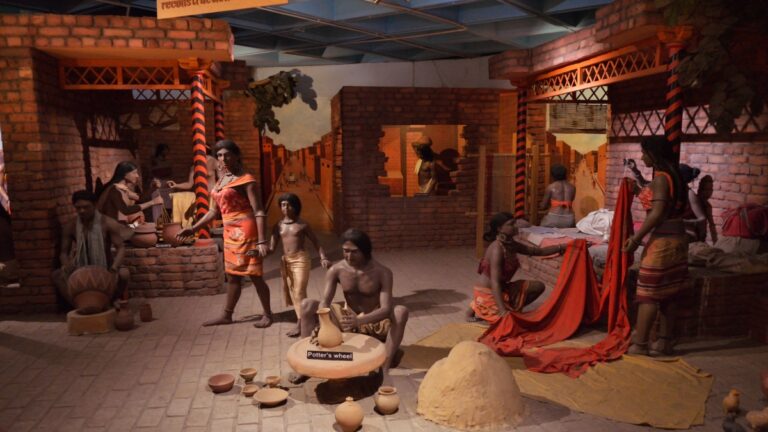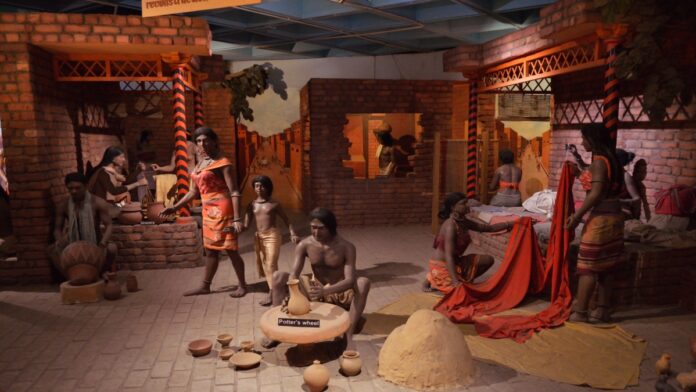 Harappan Civilization was one of the oldest civilizations of ancient India, also known as the Indus Valley Civilization. It was the urban culture of the ancient Indian subcontinent, along with Harappa and Mohenjodaro. The Harappan Civilization stretched from the Montgomery District (the former Punjab province of British India) to modern-day northeast Afghanistan, Pakistan, and northwest India. Harappan cities have urban planning, baked brick houses, complex drainage systems, water supply systems, and large non-residential buildings.
Harappan civilization people also used new techniques in Handicrafts, Karelian products, Seal carving, and metallurgy, such as copper, bronze lead, and tin. Archaeological remains at various Indus Valley Civilization sites help us learn about the science and technological progress there. In this article, we will learn more about how science and technology were in the Harappan Civilization and how civilized and developed those people were in science and technology. And what are their inventions and discoveries?
Architecture, Town Planning, and Civil Engineering of Harappan Civilization
The Harappan Civilization cities were well-planned and beautifully constructed, with baked bricks used to build houses and buildings in rows on both sides of the road. Some places were also built on the streets. Their facilities also had two-roomed houses. Some houses had private bathrooms with pottery in the walls, providing water drainage. Sometimes, there was a provision for a crib to sit in the toilet.
In the Indus Valley Civilization, the drainage system was in very systematic order; the drainage system was used for the best convenience in every household. The location of water drainage from each house was made of bricks. The architecture of well-planned urban centers based on fixed-layout patterns with scientific roads, Drainage systems (with the use of corbelled technology), and public structures (such as granaries and great bathwater far ahead of time and precursors to the modern concept of architecture and civil engineering. The Harappan Civilization also built the world's first tide port at the head of the Gulf of Cambay in Lothal, Gujarat, proving their high level of knowledge about the water flow and flow of tides.
Transportation Technology of Harappan Civilization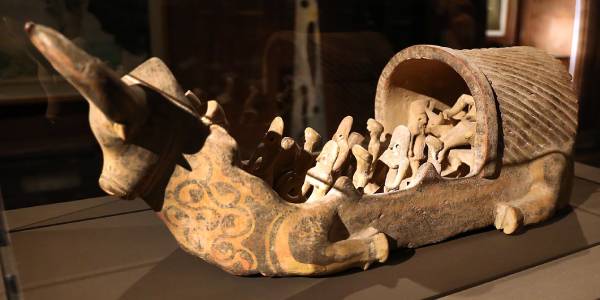 Significant advances aided the Indus Valley Civilization in transportation technology. These advances may include bullock carts similar to the boats seen everywhere in South Asia today. Most of these boats were probably small, flat-bottomed craft, likely powered by sails, which can be seen today on the Indus River; However, there are secondary pieces of evidence of seagoing art. Archaeologists have discovered a vast, dry canal as a docking facility in the coastal city of Lothal in western India (Gujarat state). An extensive canal network was also used for irrigation.
Irrigation System of Harappan Civilization
Research published in the Journal of Archaeological Science confirms that the Indus people were the first to use complex multi-cropping strategies in both seasons, growing foods during the summer such as rice, millet, beans, etc., and in winter wheat, barley, and pulses, which required separate sorting management. Researchers also found evidence for a completely different domination process of rice in ancient South Asia, around the wild species Origa Niva. This led to the local development of a mixture of "Wetland" and "Dryland" agriculture in the local Oryza sativa Indica rice agriculture.
Although the cities were situated on the river banks, they had a new irrigation system that brought them size and prosperity. Irrigation systems included artificial reservoirs (such as Girnar) and early canal systems.
knowledge of Metallurgy
The people of the Indus Valley civilization were technically very developed and had a good knowledge of metallurgy; they also used standardized burnt bricks, precision weights, and cotton. Many subdivisions also had a standardized system of weights and measurements with calibration. According to the evidence in the excavations, they used gold, silver, copper, lapis lazuli, turquoise, amethyst, alabaster, jade, etc.
The people of Harappa developed some new metallurgy techniques and produced copper, bronze, lead, and tin. In addition, a stone touching gold streaks was found at Banawali, which may have been used to test the purity of gold, a technique still used in parts of India today.
Advertisement, continue reading
Weight, Measurement, and Mathematics
The people of the Indus civilization had achieved great accuracy in measuring length, mass, and time. They were among the first to develop a system of equal weights and measures. A comparison of the available items indicates large-scale variation in the Indus regions. Their most minor division, marked on an ivory scale found in Lothal, Gujarat, was about 1.704 mm, the smallest partition recorded on the Bronze Age scale. Harappan engineers followed the decimal measurements division for all practical purposes, including measuring mass by their hexahedron weights.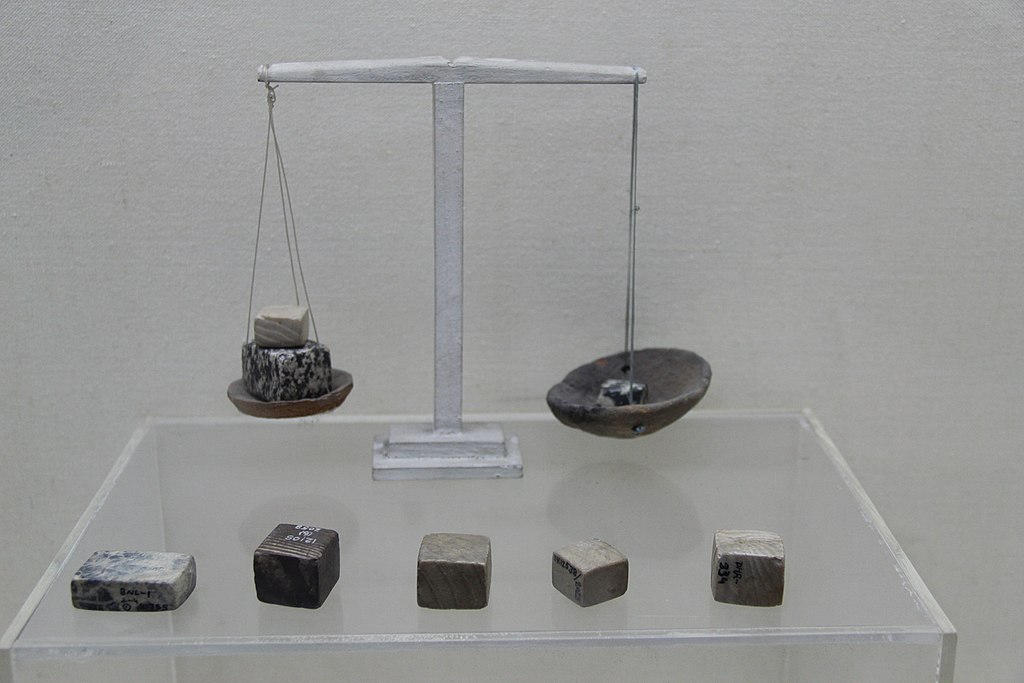 They also had a weighing stone (Batkhara) to weigh, in a ratio of 5: 2: 1 with 0.05, 0.1, 0.2, 0.5, 1, 2, 5, 10, 20, 50, 100, 200, and 500 units, and smaller items were weighed in the same proportion with 0.871 units, each unit weighing 28 grams, roughly the same as the English Imperial Ounce or Greek Unia. However, like other cultures, the actual weights were not uniform throughout the region. The importance and measurements used later in Kautilya's Arthaśāstra (4th century BCE) are similar to those used in Lothal.
The Harappans were very modern in mathematics; the numerical system they developed included most numbers for mathematical numbers such as addition and multiplication and symbols of many innovations. For example, the Harappan numerical method is a decimal and additive multiplier in use. There are also numeric symbols for 4 to 100, 1000, and their derivatives. Numerical systems that the Harappans first used were later found in other ancient civilizations as well.
Medical Science
Harappans were familiar with medical science and used various herbs and medicines to treat diseases. For example, the people of the Indus Valley Civilization practiced Trephination, a medical intervention in which a hole is made in the skull to treat skull and brain disorders. Evidence of Traction (a set of mechanisms for straightening broken bones or relieving pressure on the spine and skeletal system) has also been found at Lothal, Kalibangan, and Burjholm but not at Harappa or most other sites.
According to a report published in the Journal Nature, drilling into teeth in a living person is the oldest evidence in human history; it was found in Mehrgarh around 7000 BC. This tooth drilling incorporates tooth-related disorders with practice operated by skilled bead artisans. This is an excellent example of proto-dentistry.
Pottery and jewel making
The people of the Indus Valley were familiar with wheel-drawn potters. Paintings and glazing of potters were also known. They also learned to use lime as plaster and pyro-technology to heat lime. The Indus Valley people also manufactured 'wings of fans' by heating silica up to 1200 ℃.
They had a good knowledge of furnaces (for construction potters and bricks) and were experts in making beads. They knew the art of bead cutting, drilling, and polishing. Also, Mehrgarh shows evidence of local copper ore, containers made of bitumen, plants, animals, and tanning equipment.
Significant inventions and discoveries of the Indus Valley
The stories and findings of the Indus Valley Civilization refer to the technological and civilizational achievements of the Indus Valley Civilization. These are as follows –
Ruler
The oldest preserved measuring rod is a copper-alloy strip found by German Assyriologist Eckhard Unger while excavating at Nippur. And Unger claimed that it was used as a measurement standard. The Indus Valley Civilization used rulers from Ivory in Pakistan and some parts of Western India before 1500 BCE. Diggings at Lothal (2400 BCE) have yielded one such ruler calibrated to about 1/16 of an inch—less than 2 millimeters. Ian Whitelaw (2007) holds that 'The Mohenjo-Daro ruler is divided into units corresponding to 1.32 inches (33.5 mm) and marked out in decimal subdivisions with amazing accuracy—to within 0.005 of an inch. Ancient bricks found throughout the region have dimensions that correspond to these units.'
Advertisement, continue reading
Buttons, Decorative
In 2000 BCE, in the Indus Valley Civilization, buttons made of Sagar ka kauri or C.P. were used for decorative purposes. Some buttons were engraved in geometric shapes and pierced to be attached to clothing using a thread. Ian McNeill (1990) observes that: "Buttons were originally used more as an ornament as a fastening, the earliest being found in Mohenjo-Daro in the Indus Valley. It is made of a curved shell about 5000 years old."
The Well
The earliest clear evidence of the origin of the well is found in the Mohenjo-Daro and Dholavira in ancient India (now Pakistan), the Indus Valley Civilization archaeological site. The three features of step-wells in the subcontinent are evident from a particular site left by 2500 BCE, which combines a bathing pool, underwater steps, and figures of some religious significance into one structure. It is believed that other places in India adapted well to their architecture in the early centuries before the Common Era. The form of wells and ritual bathing reached Buddhism in other parts of the world. Rock-cut step wells in the subcontinent from 200–400 typical ages. Subsequently, wells were constructed in ponds of Paddy (550–625 CE) and Bhinmal (850–950 CE).
Conclusion
The Harappan Civilization, also known as Indus Valley Civilization, was named after the Indus River System called "Sindhu Ghati Sabhyata" in Hindi. Archaeological remains at various Indus Valley Civilization sites help us know about the science and technological progress there. So we see that they were indeed very modern in science and technology. To learn more about Harappan Civilization read this book: A brief note on Harappan Civilization by Archana Sinha.
---
Sources
Sergent, Bernard (1997). Genèse de l'Inde (in French). Paris: Payot. p. 113. ISBN 978-2-228-89116-5.
McIntosh, J. (2008). The ancient Indus Valley: new perspectives. Abc-Clio.
AGRAWAL, D. (2000). Contributions of Science to Archaeology. Bulletin of the Deccan College Research Institute, 60, 311-327.
Kenoyer, J. M. (1997). Trade and technology of the Indus Valley: new insights from Harappa, Pakistan. World Archaeology, 29(2), 262-280.
J. Mark Kenoyer, U. of Wisconsin, Madison. "Scientific and Technological Contributions of the Indus valley civilization." (PDF)
Bisht, R.S. (1982). "Excavations at Banawali: 1974–77". In Possehl Gregory L. (ed.). Harappan Civilization: A Contemporary Perspective. New Delhi: Oxford and IBH Publishing Co. pp. 113–124.
Singh, Upinder (2008). A History of Ancient and Early Medieval India. p. 157. ISBN 978-81-317-1120-0.
Hasenpflug, Rainer, The Inscriptions of the Indus civilization Norderstedt, Germany, 2006.
Gangal refers to Jarrige (2008), "Mehrgarh Neolithic". Pragdhara 18: 136–154; and to Costantini (2008), "The first farmers in Western Pakistan: the evidence of the Neolithic agropastoral settlement of Mehrgarh." Pragdhara 18: 167–178Jarrige, Jean-Francois (18–20 January 2006). Mehrgarh Neolithic (PDF). International Seminar on the First Farmers in Global Perspective. Lucknow, India. Archived from the original (PDF) on 3 March 2016.
Bates, J. (1986). "Approaching rice domestication in South Asia: New evidence from Indus settlements in northern India." Journal of Archaeological Science. 78 (22): 193–201. DOI:10.1016/j.jas.2016.04.018
Bates, Jennifer (21 November 2016). "Rice farming in India much older than thought, used as 'summer crop' by Indus civilization." Research. Retrieved 21 November 2016.
Scandinavian Archaeometry Center (1993). Archaeology and natural science, p. 118. P. Åströms. Retrieved 9 June 2011.
Hesse, Rayner W. & Hesse (Jr.), Rayner W. (2007). Jewelry making Through History: An Encyclopedia. Greenwood Publishing Group. 35. ISBN 0-313-33507-9.
McNeil, Ian (1990). An encyclopedia of the history of technology. Taylor & Francis. 852. ISBN 0-415-01306-2.
Rhind, Jennifer Peace; Pirie, David (2012). Essential Oils: A Handbook for Aromatherapy Practice. Singing Dragon. p. 14. ISBN 9781848190894.
---
This Article was Published On:3 February, 2019 And Last Modified On:18 September, 2023
FACT CHECK: We strive for accuracy and fairness. But if you see something that doesn't look right, please contact us
Disclosure: This Article may contain affiliate links and Sponsored ads, to know more please read our privacy policy.
SUPPORT US: Support the UNREVEALED FILES by making a small monetary contribution. Your contribution will help us run this platform. You can contribute instantly by clicking on this PAY NOW link.