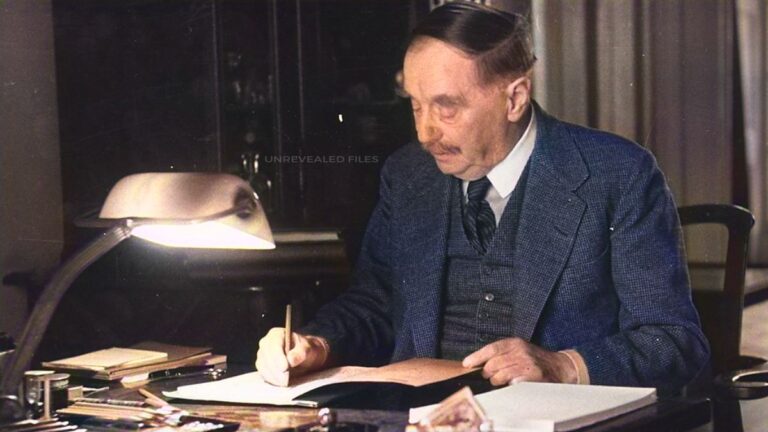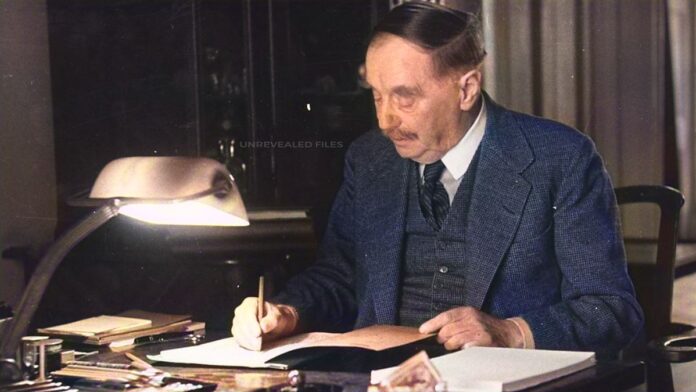 Herbert George Wells (H.G. Wells) is an English writer who excelled in many genres, including novels, short stories, social commentary, history, satire, biography, and autobiography. Apart from this, he has also written books on entertainment, war, and sports. However, he is most remembered in the modern era for his science fiction novels, and for that, he is often called the "father of science fiction" with Jules Verne and publisher Hugo Gernbach.
H.G. Wells was foremost a pioneer, even a future social critic, who devoted his literary talent to the development of progressive vision globally. He was also a futurist, wrote many romantic works, and predicted the arrival of aircraft, tanks, space travel, nuclear weapons, satellite television, and the World Wide Web.
Born
H.G. Wells, in total Herbert George Wells, was born on September 21, 1866, at Atlas House, 162 High Street, Bromley, Kent. He was the fourth and last child of Joseph Wells, a former household gardener who was also a merchant and professional cricketer at the time, and Sarah Neal, a former domestic servant.
Early life and Education of H.G. Wells
Wells family had inherited a business selling china and sporting goods, but it had failed to thrive since the product was old and worn out, and the location was terrible. Nevertheless, his father, Joseph Wells, managed to earn an insufficient living. However, most of it came from the business, and the rest came from playing professional cricket for Kent county.
An accident in 1874 that left Wells bedridden with a fractured leg was a watershed moment in his life. To pass the time, he began reading books from the local library, which his father had brought him. He quickly grew enamored with the various worlds and lifestyles that books provided him; they also fueled his passion for writing. Later that year, he enrolled in Thomas Morley's Commercial Academy, a private school formed in 1849 in the aftermath of Morley's previous school's bankruptcy.
The instruction was irregular, with the curriculum focusing primarily on generating copperplate handwriting and calculating the kinds of calculations essential to artisans, according to Wells afterward. Wells remained a student at Morley's Academy until 1880. His father, Joseph Wells, broke his thigh in 1877. The accident effectively ended Joseph's cricket career, and his subsequent earnings as a shopkeeper were insufficient to compensate for the loss of the family's principal source of income.
Because they could no longer financially support, the family attempted to position their boys as apprentices in various vocations. As a result, Wells had an unsatisfactory apprenticeship as a draper at Hyde's Drapery Emporium in Southsea from 1880 to 1883. His experiences at Hyde's, where he worked a thirteen-hour day and slept in a dormitory with other apprentices, influenced his novels The Wheels of Chance, The History of Mr. Polly, and Kipps, which depict the life of a draper's apprentice while also providing a critique of society's wealth distribution.
Wells's parents had a tumultuous marriage, owing primarily to his mother's Protestantism and his father's freethinking. When his mother returned to work as a lady's maid (at Uppark, a country home in Sussex), one of the terms of her employment was that she would not be allowed to have living space for her husband and children. She and Joseph had different lives after that, yet they never divorced and remained committed to each other. As a result, Herbert's problems worsened as he failed as a draper and, later, as a chemist's assistant. Uppark, on the other hand, had a great library in which he absorbed himself, reading numerous famous books such as Plato's Republic, Thomas More's Utopia, and Daniel Defoe's writings. This was the beginning of Wells' literary career.
Later Life and Career
His science fiction stories included time travel, the invasion of Earth by alien beings, invisibility, and imagery of biological engineering. For Wells's far-sighted thinking, Brian Aldis refers to Wells as the "Shakespeare of Science Fiction." Wells rendered his works by establishing general elaboration with an extraordinary notion – called the "Rule of Wales" – led by Joseph Conrad in 1898 to call him "O Realist of the Fantastic!" where it went.
Advertisement, continue reading
His most notable science fiction works include The Time Machine (1895), The Island of Doctor Moreau (1896), The Invisible Man (1897), The War of the Worlds (1898), and the military science fiction The War in the Air (1907) Huh.). Wells was nominated four times for the Nobel Prize in his literature.
In the beginning, Wells was exceptionally trained in biology, so his thinking on ethical matters was in a particular and fundamental context of Darwinian. He was also an outspoken socialist from the earliest times and sympathetic to pacifist views. However, his later works became increasingly political and didactic, and he wrote very little science fiction. At the same time, he occasionally hinted at official documents, stating that his profession was that of a journalist.
Novels such as Kipps and The History of Mr. Polly, which describe lower-middle-class life, suggested that H.G. Wells was a worthy successor to Charles Dickens. Still, Wells told a range of social societies and even attempted to diagnose English society in Tono-Bungé (1909). In addition, Wells was a person with Diabetes and, in 1934, co-founded the charity The Diabetic Association (today known as Diabetes).
H.G. wells, whose full name was Herbert George Wells. He was a writer of excellent science fiction stories. Wells was born on December 21, 1866, in Bromley, Kent, England. Wells was from a lower-middle-class family. And he spent most of his time playing cricket and staying in his father's small shop. Nevertheless, Wells received education in Physics, Chemistry, Biology, and Astronomy, among other subjects, securing a general school scholarship.
H.G. wells died of unknown causes on August 13, 1946, at the age of 79; some reports also stated that he died of a heart attack at a friend's flat in London. In his preface to the 1941 edition of The War in the Air in Wales, Wells stated that his episode should be: "I told you damned fools." The body of Wells was cremated on August 16, 1946, at Golders Green Crematorium; His ashes were later scattered across the English Channel "Old Harry Rocks."
Died
Wells died on August 13, 1946, at 79, of unknown causes at his house at 13 Hanover Terrace, overlooking Regent's Park in London. Wells claimed in the foreword to the 1941 version of The War in the Air that his tombstone should be: "I warned you. You cursed knuckleheads ". On August 16, 1946, Wells's corpse was cremated at Golders Green Crematorium; his ashes were then sprinkled into the English Channel at Old Harry Rocks, the most eastern part of the Jurassic Coast about 3.5 miles (5.6 kilometers) from Swanage in Dorset.
---
Sources
Wells, H. G. (2005) [1905]. Claeys, Gregory; Parrinder, Patrick (eds.). A Modern Utopia. Gregory Claeys, Francis Wheen, Andy Sawyer. Penguin Classics. ISBN 978-0-14-144112-2.
"Wells, H. G.". Revised May 18, 2015. The Encyclopedia of Science Fiction (SF-encyclopedia.com). Entry by 'JC/BS' John Clute and Brian Stableford.
Adam Charles Roberts (2000), "The History of Science Fiction," page 48. In Science Fiction, Routledge, ISBN 0-415-19204-8.
"HG Wells: A visionary who should be remembered for his social predictions, not just his scientific ones." The Independent.
Wagar, W. Warren (2004). H. G. Wells: Traversing Time. Wesleyan University Press. p. 7.
"How Hollywood fell for a British visionary." The Telegraph. Archived from the original on January 10, 2022. Retrieved January 22, 2020.
"Nomination Database: Herbert G Wells." Nobel Prize.org. Retrieved January 22, 2020.
Robert M. Philmus and David Y. Hughes, ed., H. G. Wells: Early Writings in Science and Science Fiction (Berkeley, Los Angeles, and London: University of California Press, 1975), p. 179.
Vincent Brome, H. G. Wells: A Biography (London, New York, and Toronto: Longmans, Green, 1951).
"H G Wells – Author, Historian, Teacher with Type 2 Diabetes". www.diabetes.co.uk. January 15, 2019. Retrieved January 22, 2020.
Smith, David C. (1986) H. G. Wells: Desperately mortal. A biography. Yale University Press, New Haven and London ISBN 0-300-03672-8
"September 21, 1866: Wells Springs Forth". Wired.
"HG Wells: prophet of free love." The Guardian.
Wells, Geoffrey H. (1925). The Works of H. G. Wells. London: Routledge. p. xvi. ISBN 0-86012-096-1. OCLC 458934085.
Batchelor, John (1985). H. G. Wells. Cambridge, England: Cambridge University Press. p. 2. ISBN 0-521-27804-X.
Pilkington, Ace G. (2017). Science Fiction and Futurism: Their Terms and Ideas. McFarland. p. 137.
---
This Article was Published On:22 February, 2020 And Last Modified On:16 June, 2023
FACT CHECK: We strive for accuracy and fairness. But if you see something that doesn't look right, please contact us
Disclosure: This Article may contain affiliate links and Sponsored ads, to know more please read our privacy policy.
Advertisement, continue reading
SUPPORT US: Support the UNREVEALED FILES by making a small monetary contribution. Your contribution will help us run this platform. You can contribute instantly by clicking on this PAY NOW link.